Secure Assisted Living with Memory Care in Southbury, CT
Secure assisted living with memory care is the pinnacle of person-centered care.
Pomperaug Woods' nationally recognized secure assisted living with memory care takes a personalized approach to memory care assisted living that's designed to encourage residents to remain as independent and active as possible while they progress through the stages of memory loss caused by Alzheimer's disease and other forms of dementia.
Earlier care leads to a more tranquil and fulfilling life.
Traditional memory care programs are fine for end-stage Alzheimer's disease and dementia care. But here at Pomperaug Woods, we believe the earlier a senior transitions to memory care assisted living, the easier that transition will be. Here your loved one will flourish with life-affirming activities and personalized care.
We call our approach Heartfelt Connections – A Memory Care Program®.
There is no one-size-fits-all-approach to dementia care. That's why our secure assisted living with memory care is built on the foundation of our innovative Heartfelt CONNECTIONS – A Memory Care Program®.
Our person-centered memory care assisted living program starts with our specially trained staff getting to know each individual and their family support system, not just the effects of Alzheimer's disease or other types of dementia. We focus on their history, likes, dislikes, and supportive loved ones so we can provide individualized care that celebrates each resident's abilities.
This unique approach allows us to provide a more active and engaged lifestyle for residents in early stages of memory loss and a smoother transition as they progress to later stages. This longer transition period helps our residents feel more comfortable with their surroundings as they progress through their memory loss journey, and it's also easier on our staff to get to know each individual better so we can provide better care.
Benefits for your loved one:
Supports an active, independent lifestyle for as long as possible
Promotes dignity and a sense of pride and accomplishment in day-to-day activities
Encourages engaged eating with specialized diets
Fosters self-worth, self-esteem, and overall health and well-being
Reduces fear, anxiety and frustration
Benefits for you:
Provides the comfort of knowing your loved one has the best quality of life possible
Allows you to return to the loving relationship you once shared
Gives you the opportunity to make the most of your time together
Supports you and your family with resources, counseling and other services
Discover the difference secure assisted living with memory care at Pomperaug Woods can make.
To learn more about our nationally recognized approach to memory care in Southbury, Connecticut, contact us using the form at the bottom of this page.
Featured Memory Care Floor Plan.
Apt 227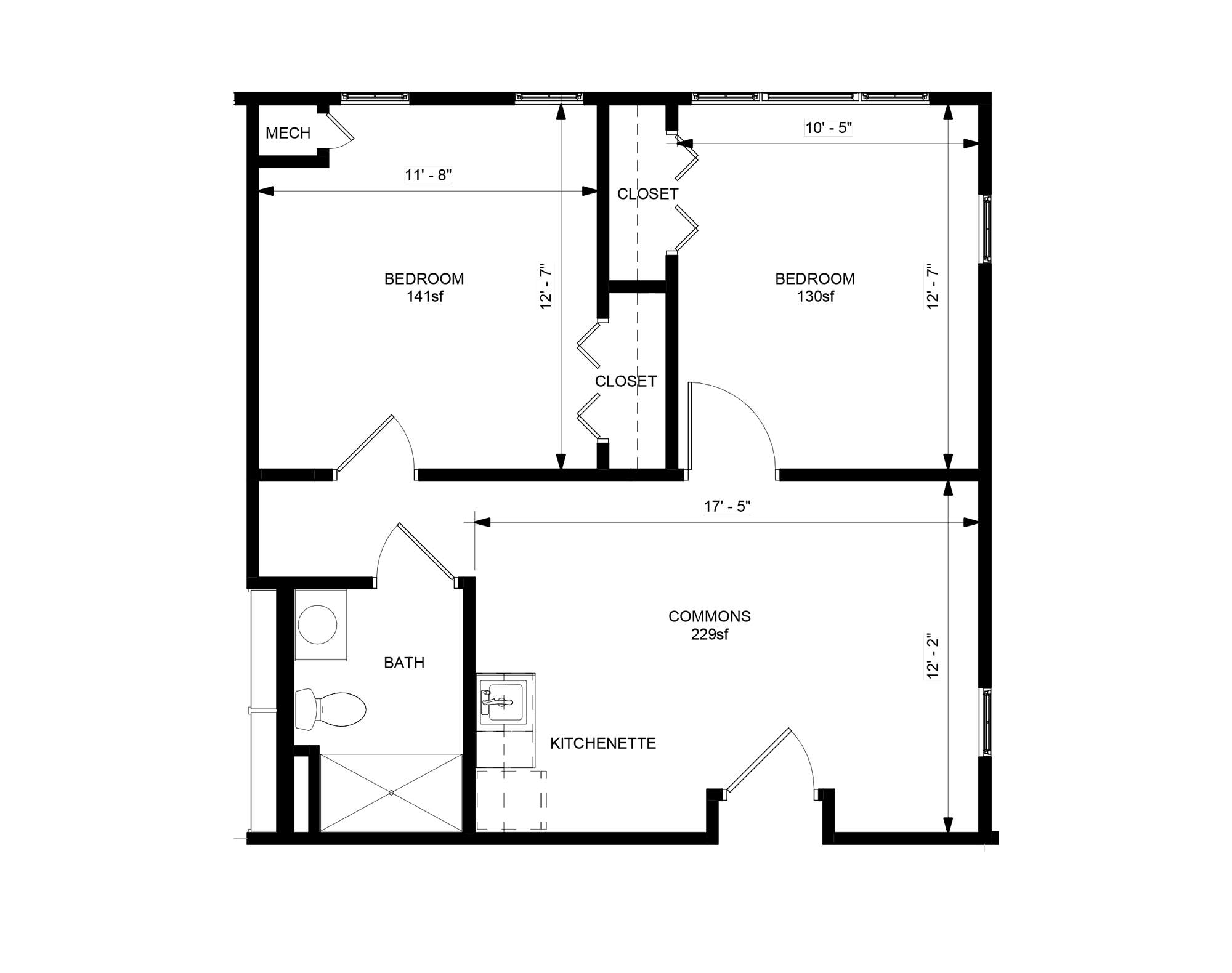 Dimensions and ceiling heights may vary slightly.
Interested in different accommodations in our memory care assisted living neighborhood? Download our full selection of Memory Care apartments.
High-Quality Memory Care Assisted Living for All
We're proud to accept current Pomperaug Woods residents and extend services to include 62+ Southbury-area seniors living with memory loss.

Our secure assisted living community includes spaces designed for comfort and contentment. Sixteen private and semiprivate memory care apartments offer a choice of private or shared bathrooms. Team members work with residents' loved ones to create a holistic support network and to customize activities that encourage meaningful days and provide reliable routines for a sense of stability.
Memory Care Services Include:
Support from certified nursing assistants in activities of daily living, including bathing, grooming, dressing, eating
Medication management by nursing professionals
Nutritious chef-prepared meals
Dementia-friendly programs and activities

Nursing staff available 24/7
Vital sign and blood pressure checks
Transportation coordination to medical appointments
Regular housekeeping
Frequently asked questions about memory care.
How is memory care different from assisted living?
In memory care, each aspect of the neighborhood and accompanying support is designed around the unique needs of residents with memory loss. Specially trained team members work closely with the individual and their loved ones to create reliable structure within familiar schedules and surroundings — all in a secure environment that celebrates accomplishments and promotes a sense of purpose.

If additional skilled nursing care is needed, Pomperaug Woods is uniquely equipped to meet those needs with highly specialized care.
What is the difference between Alzheimer's disease and dementia?
Dementia is an overarching term referring to cognitive decline that impacts a person's everyday life. Alzheimer's disease is the most common cause of dementia.
Is the staffing different in memory care?
Yes. Team members are specially trained in person-centered memory care. These caregivers provide dignified, respectful care with compassion.
How much will it cost?
Pricing will vary depending on whether the senior is already a resident of Pomperaug Woods. Residents with a LifeCare® contract will be able to transition to memory care based on the parameters of their current residency contract. For seniors who enter through direct admission, there will be a one-time $5,000 entrance fee, and monthly fees will run between $8,500 and $9,500.
What services are included in the monthly fee?
The monthly fee includes daily nursing care, medications, assistance with activities of daily living (e.g., bathing, toileting, personal hygiene, dressing, eating), regular housekeeping with linen and towel service, meal plan, community activities, preventive building maintenance, and utilities (electric, water, heat).
Can loved ones visit?
Of course! Your guests are welcome in your home and can enjoy recreational activities, dining venues, amenities, and activities with you while visiting.
Can residents bring personal items from home?
Absolutely! It's your home. We know familiar items and long-treasured belongings provide comfort and consistency for seniors living with dementia. Our goal is to make residents as comfortable as we can.