Active seniors know that retirement is the start of a wonderful new stage in life — after all, you've got a lot of living to do! Now's the time to check things off your bucket list — take up new hobbies, pursue your passions, make new friends, and spend time with loved ones. Savvy seniors downsize and move to Pomperaug Woods, where we take care of tedious yard work and home maintenance, leaving residents free to focus on fun.
Pomperaug Woods welcomes new residents to our LifeCare community every day. It's always fascinating to hear how they spend their days on campus — joining clubs, taking daytrips, and dropping into classes and lectures. Good food, good friends, and good fun fill the day, and we love to hear all about it. Read on to learn what residents have found as they have gone "Into the Woods…". What they often end up finding is the very best version of themselves.
Life really is better at Pomperaug Woods…
Ellie Crystal is not one to shy away from change. "Life is always changing," Ellie said. "You have to embrace it."


Married 60 years to her husband Allan, they lived in Brooklyn, NY, then moved to New Brunswick, NJ, and finally settled in Westport, CT. She originally was a bookkeeper, then took time off to stay home to raise her three children. At age 40, she decided to go to college and get a degree in Social Work. "I went to community college in Norwalk, and when I got my degree, they placed me in a social service non-profit called Christian Community Action. I rose through the ranks and ended up running the agency for 15 years. It was a really rewarding job."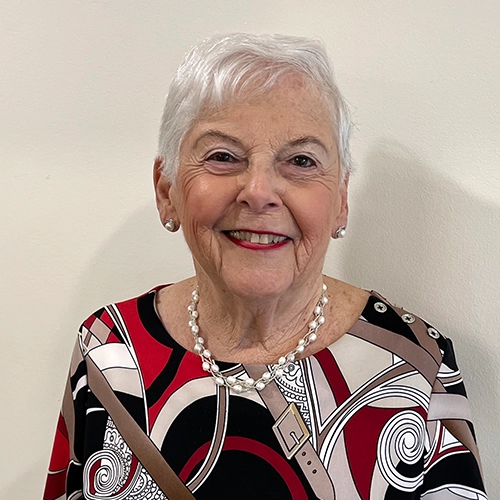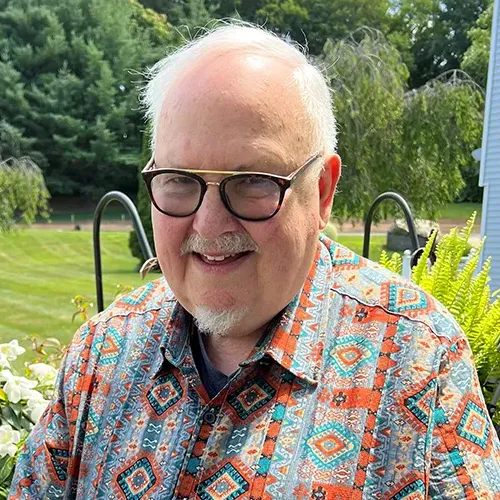 Mervyn Clay was a Manhattanite through and through.  "I lived in New York City for 49 years," said Mervyn.  "I lived in a rent controlled third-floor walk-up apartment on Riverside Drive.  It was gorgeous.  When I inherited a condo at Heritage Village, I started spending three weeks in Connecticut, and three weeks in Manhattan.  I liked the contrast of country versus city.  But while I was out and about in Connecticut one day, I fell and fractured my leg.  I couldn't walk for three months, so I lived in Connecticut while it healed.  On my first day back to the City I counted the steps up to my apartment.  There were 52 stairs from the sidewalk to my apartment door, and I thought 'Well, this will never do.  I can't live in a third-floor walk-up forever, and I can't live in my country condo forever with the enormous gardens to care for.  I clearly need to get a better plan and come up with a safety net for myself.'  And so I did. 
May knew the antidote to the isolation of Covid was to seek out the camaraderie of a senior living community. "I lived in Heritage Village when Covid began," said May. "With nothing to do and no one to talk to, the isolation really started to take its toll. I had been married for 48 years, but my husband passed away many years ago, so I understood how important it was to stay connected with others to weather life's ups and downs. I have two daughters, but they don't live nearby. I had a 30-year career judging AKC dog shows all across the United States and around the world, but I recently retired from that. The pandemic wasn't going to end quickly, so I knew I had to take decisive action to turn things around for myself. I started touring senior living communities. My daughter and I looked at a lot of them, but one immediately bubbled up to the top — Pomperaug Woods. It impressed me as a true "community." There is nothing institutional about it. The building itself is light, and bright, and beautiful. The staff is exceptionally warm and welcoming. And the residents are a social, lively group. It was exactly what I was looking for! I moved in on June 2, 2021, and I've never looked back. I couldn't be happier here."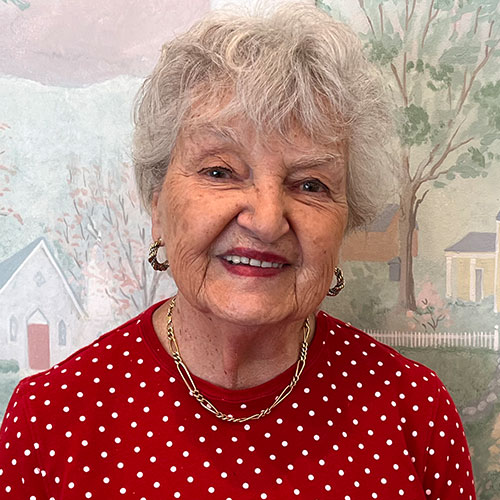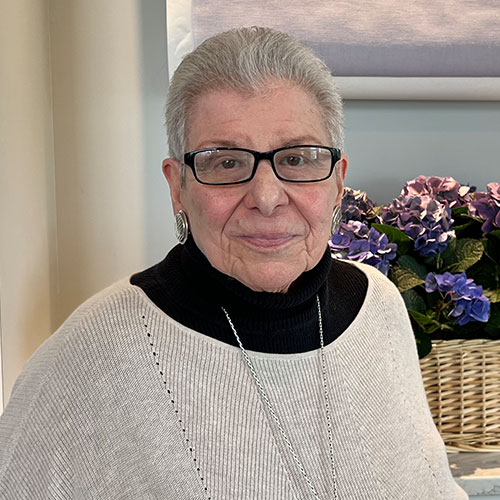 "What can I say? I like people," said Thelma. "I grew up in Manhattan and went to high school at Bronx Science. I was a buyer for my parents' clothing stores for a long time, and after they closed, I worked in retail management for 30 years. I managed stores for Caldors, and later Loehmanns and Marshalls. I really enjoyed it! To be successful in retail, you have to like people, and I truly do. Fast forward to when I turned 80, and I decided to look into senior living communities. I immediately connected with the friendly culture of Pomperaug Woods. Everything about it felt so personal and warm. I have lived here for five years and been very happy with my choice."
Harry Kamel is a proud centenarian, who shows no signs of slowing down. "I will be 101 on July 1 st ," said Harry. "I'm busy all the time. Maybe after I finish writing my second book, I will take it easy. But there's still so many things that interest me."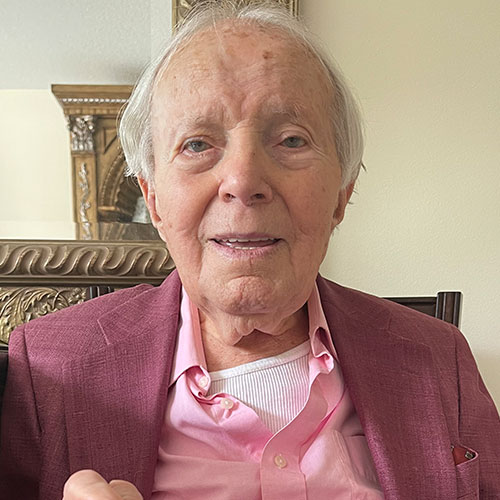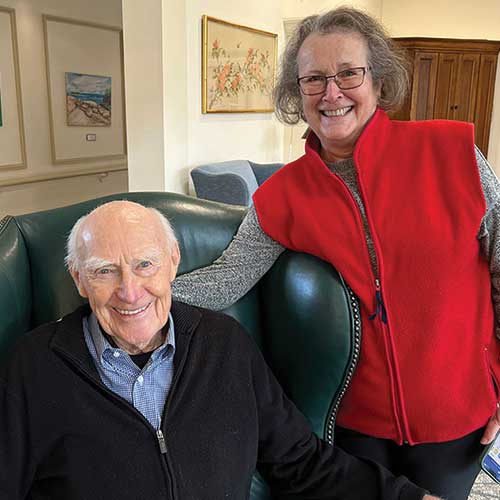 "I grew up in Norway," said Rolf.  "I went to the University of Glasgow in Scotland for a chemical engineering degree, and as soon as I could, I fulfilled my dream of emigrating to the United States.  I had jobs in Los Angeles and Louisville, Kentucky, and then moved further afield — Aruba, Columbia, the Philippines — eventually moving back to Norway to work for a large Norwegian company.  They transferred me back to the US to run their New York head office, where I was also very involved with the Norwegian community and became chairman of the NY Norwegian Seaman's Church."
"I have made great friends with so many people here," said Peggy. "I go on all the daytrips to museums, the theater, and the movies. Lisa does an amazing job with activities. I'm a regular at Jeffrey Engel's Music Appreciation class. And Dr. Hunt's lectures are always fascinating. I learn so much from both of them. I'm also on the Resident Council and I really enjoy attending the Board meetings. My days are full. My life is full."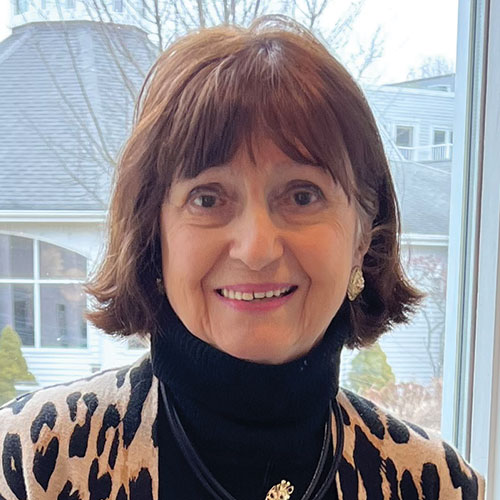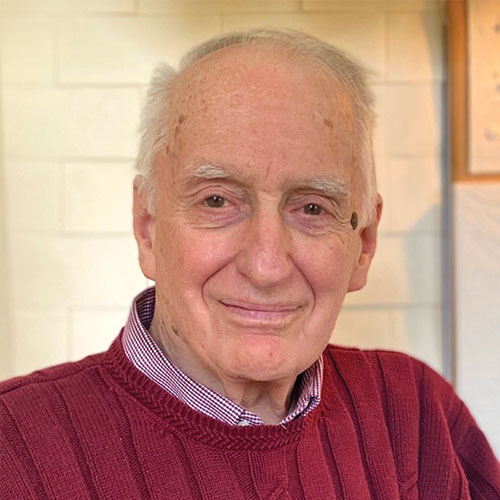 "When I moved into Pomperaug Woods, the first thing I joined was the ROMEO Club," said Ken. "ROMEO means Retired Old Men Eating Out. It's great! A bunch of guys get together and go out to lunch. We talk a lot about UConn basketball. To be honest, I have had plenty of friends my whole life, but after my wife passed, I realized I didn't have any guy friends that I could hang out with by myself. Moving to Pomperaug Woods made it easy to make new friends. I'm grateful for that."
Give yourself the gift of Pomperaug Woods
Five-Star Amenities • Gourmet Dining • LifeCare Peace-of-Mind
Let us treat you to lunch and an experience. VISIT TODAY!