Memory Care Community Accommodations
Pomperaug Woods' unique Assisted Living Memory Care community is full of light and sunshine, setting the stage for a warm, nurturing environment that emphasizes friendly socialization, cognitive engagement, and active wellness. 16 residents make up our memory care community, so our small group soon feels like family. In the common spaces of our "home" there is a living room with a television, a desk, and comfy chairs for reading. In the Great Room, there's a space for dining (with a kitchen packed with snacks and drinks), and an area for activities where residents can gather to watch TV or take part in games, art therapy, and music therapy. The Great Room is where we keep a shelf of Memory Books — each book personalized with photos and images meaningful to a specific resident. Residents can take their own memory book off the shelf and share stories with friends, family, and staff as they flip the pages. It's a wonderful way to spark conversation and cognitive recognition. Family can visit anytime, and staff are happy to accompany residents on walks around campus. It's easy living at its best!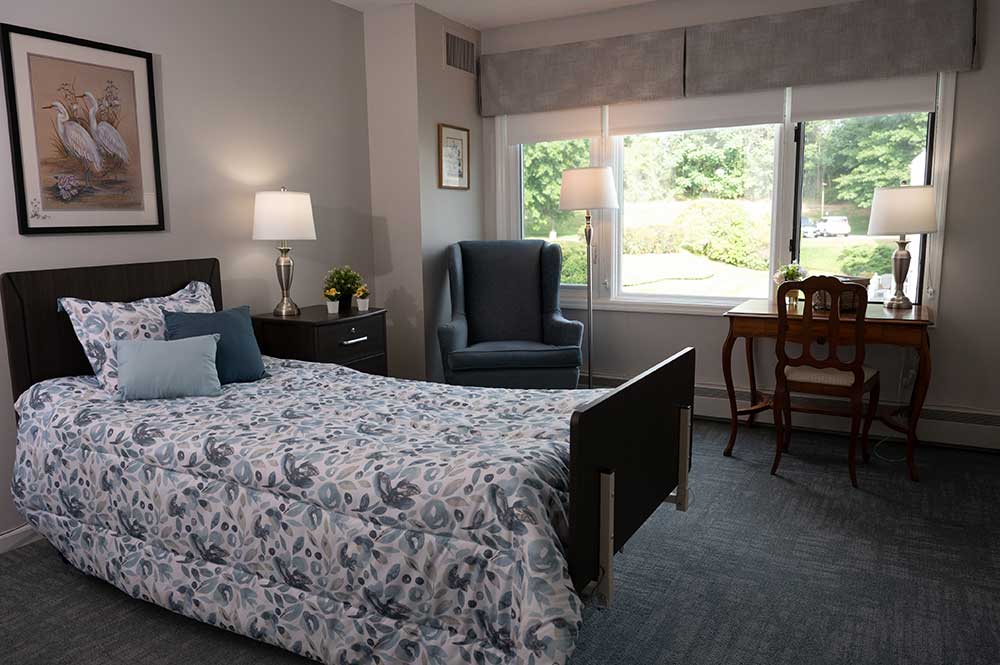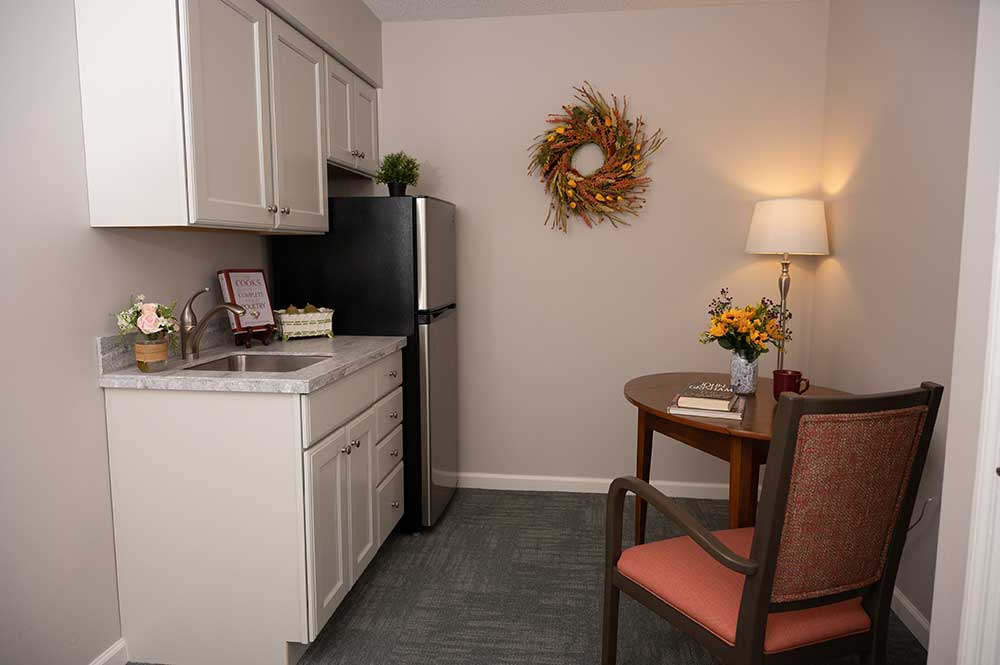 Our neighborhood is comprised of a variety of apartment configurations — two studios and seven companion suites. The two studio apartments include a bedroom and bathroom. The companion suites feature a common space as well as bedrooms and bathrooms. Floor Plan A features two bedrooms with a shared bath and Floor Plan B features two bedrooms each with a private bath. All apartments come with a bed, television, and generous closet space for clothing and storage. All you need to bring is a comfy recliner and any personal décor that you would like to make the space homey and inviting.
As you stroll through our memory care neighborhood, you'll notice that outside of each resident's apartment is a personal shadow box, filled with a collage of images and keepsakes that are meaningful to each individual. Created just for them, the shadow box is a wonderful way to celebrate each resident, and it has the dual purpose of providing visual cues to help memory care patients with location processing and recognition. It's just one of the many simple ways we address dementia deficits via gentle reminders and cognitive touch points.
New residents joining Pomperaug Woods must be 62+ years of age and have the financial means and insurance to cover all housing and care costs.
Pomperaug Woods is not a subsidized housing community, nor does it include low-income housing options.
Complete the form below for more information on our community.
"*" indicates required fields
Learn more about
Pomperaug Woods Health Services
We are here to support you.