This Month's Spotlighted Resident
Joel Abramson faced many crucial moments in life with courage. As a World War II fighter pilot based on Iwo Jima, it took courage for Joel to fly into battle. "One of my missions turned out to be the very last combat mission of World War II," said Joel. "It was one of the happiest days of my life." Many years later, it took courage for Joel to face the devastating effects of a stroke. "I vividly recall being determined to make a full recovery," said Joel. "And I DID!" And as a dynamic, active senior, living a great life for 28 years in Heritage Village, it took some courage for Joel and his wife to make a change and move to Pomperaug Woods. "I think facing any change in life takes some courage," said Joel. "But I see how taking charge of my own future has been the difference between living a good life and living a great life. My wife and I watched Pomperaug Woods being built. Eventually we took a tour, and we really liked what we saw. My sister lived in the Watermark, so I knew that community well. She wanted us to move there to be near her, and it took a little courage to make a different choice. But it has made all the difference. I like that Pomperaug Woods is smaller, friendlier, and not-for-profit. Even after living here for almost 10 years, it still impresses me that every single staff member, from Kevin Moshier, the Executive Director, all the way down to members of the housekeeping staff, all know my name. Everyone greets me so warmly wherever I go. When my sister came to visit me here, she said, 'You're right. It's easy to see why you chose Pomperaug Woods.' To anyone considering downsizing, I would tell them to have courage, do your own research, and see what community feels truly warm, friendly, and supportive to you. For me, that is Pomperaug Woods."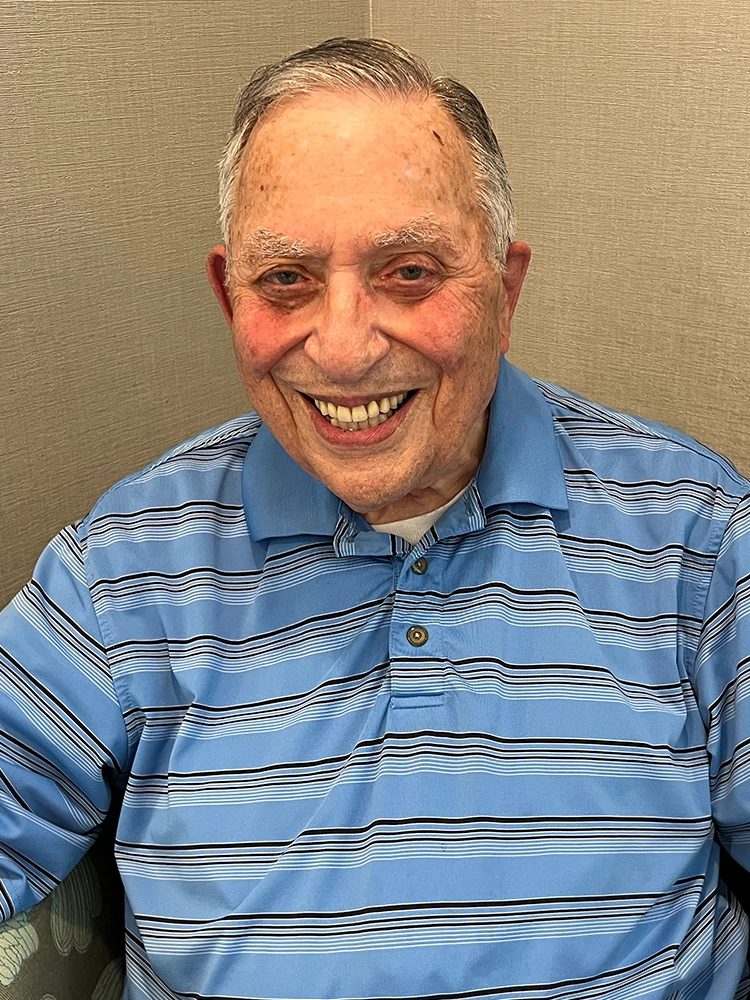 Joel and his wife, Doris, were married for 74 years. Toward the end of her life, Doris was diagnosed with Alzheimer's disease, and Joel was her sole caregiver. "It was such a good thing we lived in Pomperaug Woods," said Joel. "When adverse health circumstances hit me, there were supports in place here to make sure Doris was cared for properly while I was recovering from my two strokes and my fractured hip. I never had to worry about her. Plus, when I got out of the hospital, I was able to get rehab in the Health Center at Pomperaug Woods before going back to our apartment, and I was able to get PT right here. I'm 100 years old, and doing great, and I attribute that in large part to the support provided by the Pomperaug Woods staff."
Doris passed in August 2020, but Joel's many friends make sure he stays busy. "I take advantage of every lecture and class that they have here," said Joel. "I love the Thursday Current Events group. I always go to Music Appreciation lectures. I make it a point to go to exercise class twice a week. And I even take roles in the Pomperaug Players shows. It's great fun! And every night I eat in the dining room with friends. Living alone isn't exactly a picnic, but living in Pomperaug Woods among good friends and the terrific staff gives me the courage to face anything that life throws my way."
Joel, having you as one of our many centenarians makes us Pomperaug PROUD!
Complete the form below for more information on our community.
"*" indicates required fields
Give yourself the gift of Pomperaug Woods
Five-Star Amenities • Gourmet Dining • LifeCare Peace-of-Mind
Let us treat you to lunch and an experience. VISIT TODAY!