This Month's Spotlighted Resident
Thelma is an extrovert.
"What can I say? I like people," said Thelma. "I grew up in Manhattan and went to high school at Bronx Science. I was a buyer for my parents' clothing stores for a long time, and after they closed, I worked in retail management for 30 years. I managed stores for Caldors, and later Loehmanns and Marshalls. I really enjoyed it! To be successful in retail, you have to like people, and I truly do. Fast forward to when I turned 80, and I decided to look into senior living communities. I immediately connected with the friendly culture of Pomperaug Woods. Everything about it felt so personal and warm. I have lived here for five years and been very happy with my choice."
Thelma was married to her husband, Donald, for 36 years. They had two children and two grandchildren. After her husband passed, Thelma lived alone in a condo for many years. "I had plenty of friends and an active social life, but when I walked into my condo and closed the door, that was it. I was alone. And while that was fine for many years, my perspective changed after I was diagnosed with Non-Hodgkin Lymphoma in 2013. I started to look ahead and think about how my needs were changing and where I wanted to be. My children live in Boulder, Colorado and Venice, Florida, and while each of them invited me to move near them, I wanted to stay in Connecticut where I had friends. I think it's very important to be with people your own age. At Pomperaug Woods, there's always something to do and people to socialize with. It's FUN to live here!"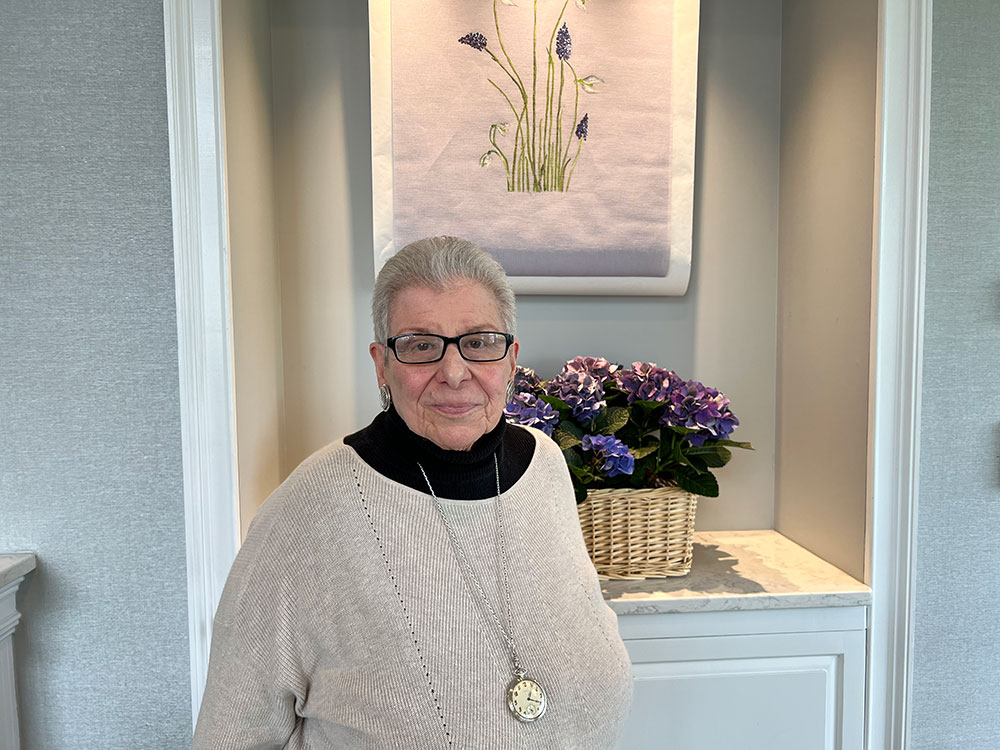 Thelma moved to Pomperaug Woods in 2018, and she's been on the go ever since. "I'm a joiner," laughed Thelma. "I belong to a mahjongg group and a canasta group. I also play poker with the guys on Saturdays. I love to go on the day trips. I have one friend that I've known for 50 years, and she moved to Pomperaug Woods two years ago, so we go on all the daytrips together. And while I have no skills in the dramatic arts, I love theater, so I am assistant to the director of the Pomperaug Players. That group is a lot of fun. I also volunteer on the Resident Gift Committee, and I am Chair of the Food Committee. I'm a foodie, and Pomperaug Woods is so lucky to have Chef Carol. She is absolutely wonderful! Pomperaug Woods has exceeded my expectations in every way."
Thelma's experience with the Pomperaug Woods staff has been just as positive. "From the very first day that I moved in here, the entire staff has always known my name," said Thelma. "When I got the flu, they delivered my mail to my door, and called to check on me every day. Whenever I've had a request, they've never said no. That's the truth. They've never said no to anything I've asked for. I truly enjoy my life here. It's FUN!"
Your vivacious nature is contagious, Thelma. We are so lucky to have you at Pomperaug Woods!
Complete the form below for more information on our community.
"*" indicates required fields
Give yourself the gift of Pomperaug Woods
Five-Star Amenities • Gourmet Dining • LifeCare Peace-of-Mind
Let us treat you to lunch and an experience. VISIT TODAY!