This Month's Spotlighted Resident
Rolf and Rita grew up worlds apart, but they were destined to be together.
"I grew up in Norway," said Rolf.  "I went to the University of Glasgow in Scotland for a chemical engineering degree, and as soon as I could, I fulfilled my dream of emigrating to the United States.  I had jobs in Los Angeles and Louisville, Kentucky, and then moved further afield — Aruba, Columbia, the Philippines — eventually moving back to Norway to work for a large Norwegian company.  They transferred me back to the US to run their New York head office, where I was also very involved with the Norwegian community and became chairman of the NY Norwegian Seaman's Church."
"My father was in the British Army, so (after being born in Israel) we moved around Europe constantly," said Rita.  "In 1971 I, too, moved to the US, initially only for one year!  After stints in Pittsburgh and Athens, Ohio, I moved to New York, and started working for a petrochemical trading company which eventually moved me to Houston.  Rolf and I met on vacation in Mexico through a mutual friend.  We married in Houston, and I moved to Stamford where Rolf was living. We've been married now for 35 years."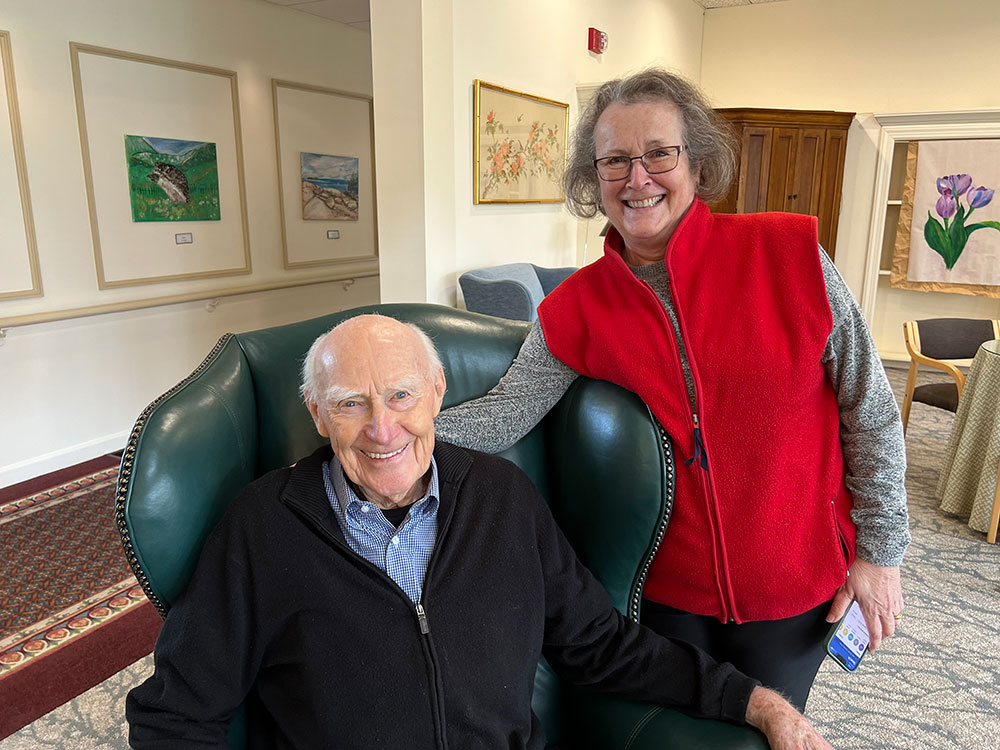 When Rita retired in 2017, they downsized and moved to Heritage Village.  After a few years, Rolf's memory started to decline, and Rita began to consider what would be the best environment that would offer support for both of them. "Pomperaug Woods was the one community that would allow us to stay together," said Rita.  "Especially if we were wise and made the move before either (or both) of us really needed the additional care and support."
Rolf and Rita moved into Pomperaug Woods in 2021 and have been thrilled with their choice.  "I would say there are three main reasons why we're so happy with Pomperaug Woods," said Rita.  "First, we absolutely love our apartment.  We chose a 2 bed/2 bath apartment.  Pomperaug Woods completely renovated the apartment before we moved in, so everything was brand new from top to bottom.  Another thing we both appreciate here is the food.  Every meal is delicious, and the variety is wonderful.  Chef Carol comes up with such creative menu options.  And if anyone has a request or suggestion, the entire dining team is very receptive to our input.  But the thing that means the most to us is how friendly everyone is.  Staff.  Residents.  It's easy to feel at home here."
We're so happy the world-traveling Kogstads chose to plant roots in Pomperaug Woods. They are a lovely addition to our community of friends.
Complete the form below for more information on our community.
"*" indicates required fields
Give yourself the gift of Pomperaug Woods
Five-Star Amenities • Gourmet Dining • LifeCare Peace-of-Mind
Let us treat you to lunch and an experience. VISIT TODAY!