This Month's Spotlighted Resident
Ellie Crystal is not one to shy away from change. "Life is always changing," Ellie said. "You have to embrace it."
Married 60 years to her husband Allan, they lived in Brooklyn, NY, then moved to New Brunswick, NJ, and finally settled in Westport, CT. She originally was a bookkeeper, then took time off to stay home to raise her three children. At age 40, she decided to go to college and get a degree in Social Work. "I went to community college in Norwalk, and when I got my degree, they placed me in a social service non-profit called Christian Community Action. I rose through the ranks and ended up running the agency for 15 years. It was a really rewarding job."
When she and her husband retired, they moved to Heritage Village, and lived there for 10 years. They took a trip down the entire East Coast staying in elder hostels, and fell in love with Hilton Head, South Carolina. So they left Connecticut after 40 happy years, and started over in South Carolina. "It was such a beautiful place, we just had to be a part of it," said Ellie. "Allan started showing signs of dementia while we lived there, and I needed help. Heritage Village didn't offer the services he needed, so we moved back to Connecticut and lived at Watermark. Unfortunately, Watermark didn't have room for my husband in their memory care section, so I ended up hiring private aides to help me care for him. After he passed, I didn't really want to stay at Watermark anymore, so I moved back to Heritage Village. But it was lonely living there alone during the pandemic. I wanted to be around people, and I wanted to be where I had support. Pomperaug Woods felt like the perfect option. The food is great, the staff is so warm, the residents are so friendly, and there's all the support I could ever need right here. I have hopscotched up and down the East Coast to finally find a place that is just right for me back in Southbury. I really feel connected here!"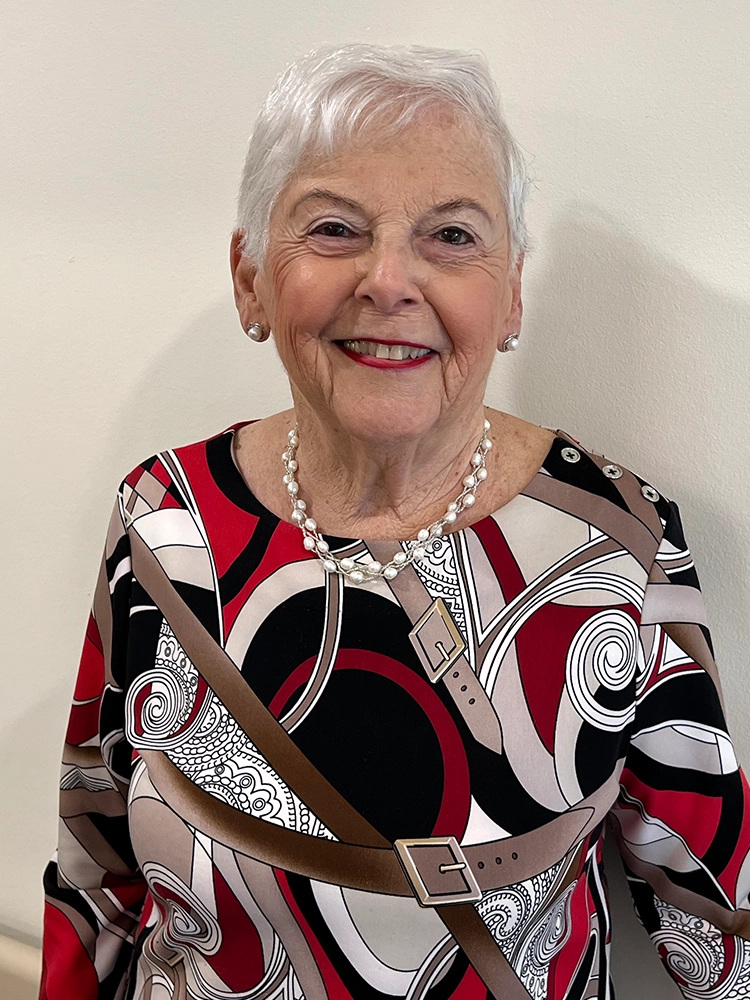 Ellie jumped into the Pomperaug Woods fun with both feet. "I play mahjongg twice a week, and canasta once a week," said Ellie. I go to exercise class twice a week, and I go on all the daytrips and to all the lectures. I joined the Knitting Club and am learning to knit a blanket for my new great granddaughter. I also go to Creative Arts class twice a week. Everyone is so encouraging in that class. They are all so talented, and I'm just a beginning artist, but they really cheer me on. I also try to go to Thirsty Thursday Happy Hour every week. I didn't realize how much I missed being social until I came here. I have had friends in every place I've lived in my life, but it feels like my found family here. What more could I ask for?"
We are so happy to have you as part of the Pomperaug family, Ellie. Welcome home!
Complete the form below for more information on our community.
"*" indicates required fields
Give yourself the gift of Pomperaug Woods
Five-Star Amenities • Gourmet Dining • LifeCare Peace-of-Mind
Let us treat you to lunch and an experience. VISIT TODAY!