This Month's Spotlighted Resident
Mervyn Clay was a Manhattanite through and through. "I lived in New York City for 49 years," said Mervyn. "I lived in a rent controlled third-floor walk-up apartment on Riverside Drive. It was gorgeous. When I inherited a condo at Heritage Village, I started spending three weeks in Connecticut, and three weeks in Manhattan. I liked the contrast of country versus city. But while I was out and about in Connecticut one day, I fell and fractured my leg. I couldn't walk for three months, so I lived in Connecticut while it healed. On my first day back to the City I counted the steps up to my apartment. There were 52 stairs from the sidewalk to my apartment door, and I thought 'Well, this will never do. I can't live in a third-floor walk-up forever, and I can't live in my country condo forever with the enormous gardens to care for. I clearly need to get a better plan and come up with a safety net for myself.' And so I did. I toured a few senior living communities in Connecticut, but it was Pomperaug Woods that really resonated with me. The lovely staff in the marketing department invited me to lunch a couple of times, and when they served me rack of lamb and Osso Buco, and I thought, 'This is unexpected.' It was like living in a resort hotel. And who doesn't want to live in a gorgeous resort hotel for the rest of their life?"
Mervyn wasn't sure how he was going to downsize with 49 years' worth of antiques and collectibles in tow. "Quite frankly, I had a lot of stuff. Furniture. China. Figurines. Art. Plants. You name it," said Mervyn. "Pomperaug Woods connected me with a downsizing service, and it was fabulous. They took care of everything. They helped me choose what would work best in my new apartment. They knew just what to sell, and where to sell it. And here I am, my apartment is full of all my favorite pieces, and my terrace is bursting with gorgeous hanging plants. What more could I want?"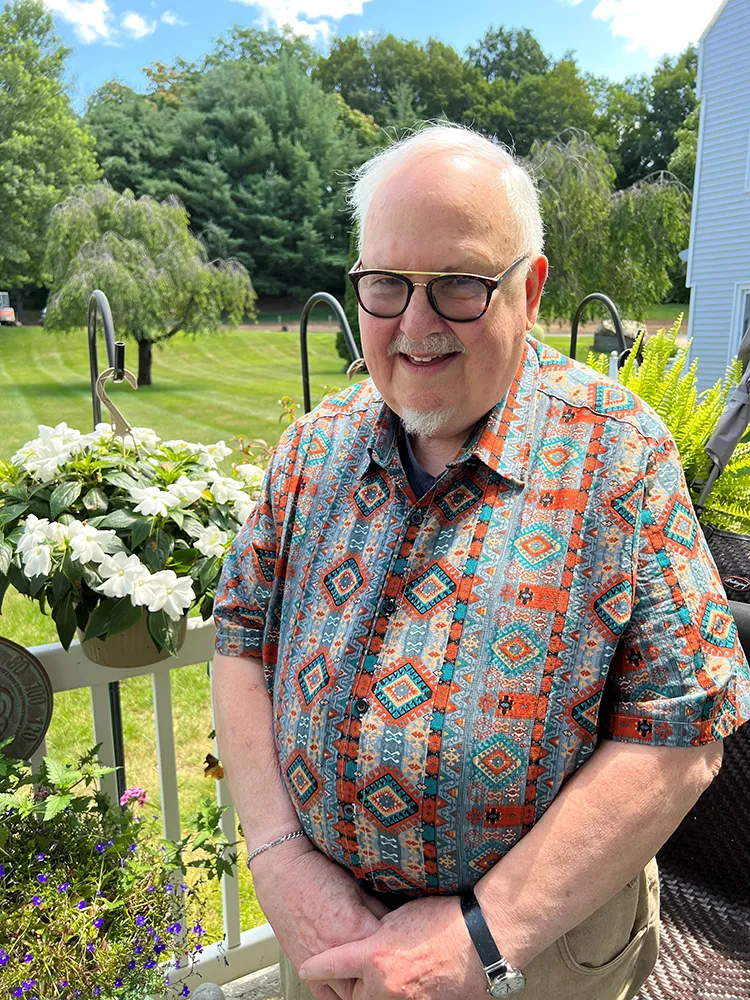 Mervyn didn't waste any time getting involved when he moved to Pomperaug Woods. "Well, I'm on the Resident Council," said Mervyn. "We meet once a month with the residents, and then address any of their concerns or requests with the Pomperaug Woods administration. They honestly never say no to a reasonable request. They work very hard to make everyone happy. I'm also on the Food Committee. Chef Carol is completely open to suggestions for new meals. Of course, after eating her Osso Buco, I was sold on Pomperaug Woods. It's a community for true foodies like me! And I also started the Reel Royalty film series. It introduces residents to forgotten films. There are some real gems being released from the Hollywood vaults these days. We just watched 'The Torch Singer' featuring Claudette Colbert. Everyone loved it!"
So did Pomperaug Woods turn out to be the safety net Mervyn was hoping for? "It's so much better than that," said Mervyn. "I'm only 83 years old. I'm in good health. I'm going to be living here for a very long time. There's a neighborly quality to Pomperaug Woods that is quite charming. The friendliness…and the Osso Buco…are irresistible."
Aww, you're irresistible, Mervyn! We hope to continually surprise — and delight — the foodie in you for many years to come.
Complete the form below for more information on our community.
"*" indicates required fields
Give yourself the gift of Pomperaug Woods
Five-Star Amenities • Gourmet Dining • LifeCare Peace-of-Mind
Let us treat you to lunch and an experience. VISIT TODAY!