Occupational therapy is a type of rehabilitation program that helps seniors get back to a normal life and be as self-reliant as possible. It focuses on what the individual is able to do, rather than what they can't do. It helps them overcome limitations or challenges as a result of illness, injury, disability or cognitive decline.
What defines occupational therapy.
While physical therapy focuses on restoring muscle strength and mobility, and speech therapy focuses on speaking and swallowing skills, occupational therapy centers on activities of daily living.
Activities of daily living (ADLs) are important to being able to live independently, and are the kinds of tasks we often take for granted:
Hygiene: Bathing or showering, grooming, cutting one's nails, brushing teeth
Dressing: Choosing appropriate clothing, and physically dressing and undressing
Eating: Feeding oneself without assistance
Continence: Using the restroom, including getting on and off the stool, and cleaning oneself.
Mobility: Sitting, standing, and getting in and out of bed without assistance. Walking unsupported from one location to another.
Another category of daily activities is termed instrumental activities of daily living (IADLs). IADLs are also a marker of independence, but we don't necessarily do them every day. They're just as noticeable when it comes to the loss of functioning. They include:
Communication: Using a phone, computer or other means of communication.
Transportation: Driving oneself, arranging a ride or taking public transportation.
Dining: Planning, preparing and cooking a meal, and cleaning up afterward. Being able to safely use kitchen equipment and utensils.
Shopping: Planning and making appropriate food, clothing and other purchases.
Housekeeping: Keeping the home clean and tidy, doing laundry, washing dishes, etc.
Through meaningful activities that improve fine motor skills, strength and dexterity, an occupational therapist helps someone improve their ability to perform these tasks and participate more fully in everyday life.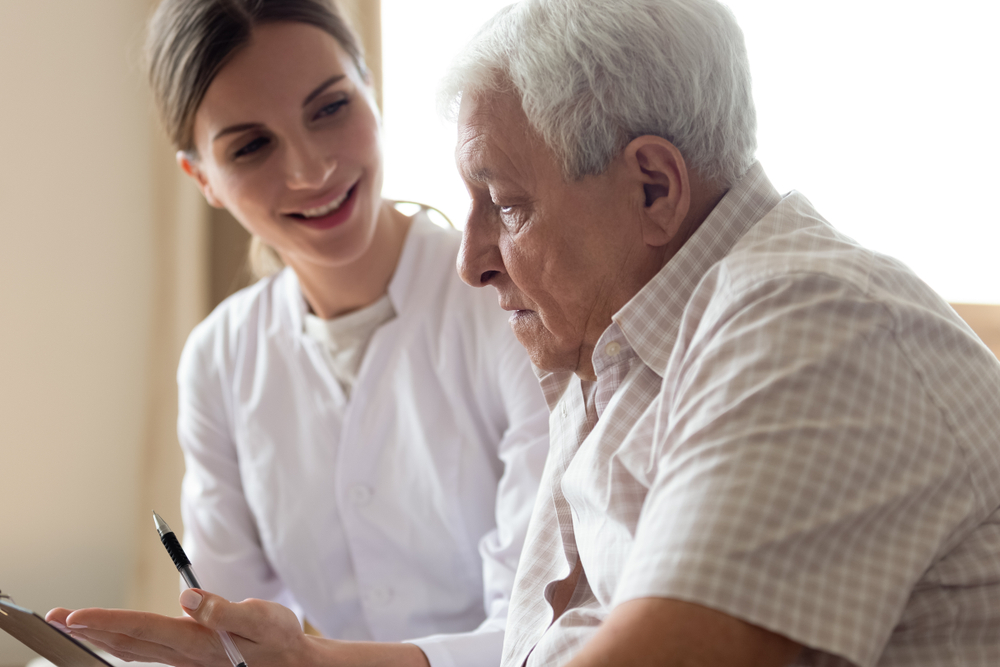 What to expect during occupational therapy.
First, the therapist will evaluate a senior's condition to determine which activities of daily living they're able to do on their own and which ones they need help with. Once they understand a person's goals, they're able to develop a personalized plan of therapy, with the objective of keeping the individual as independent as possible at home, at work or in other settings.
During a therapy session, the occupational therapist will teach or retrain daily tasks through a combination of education, exercise and rehabilitation techniques. The patient may learn new ways of doing things, such as how to enter a shower safely without handrails. Or they may work on abilities that need boosting, such as putting on shoes,or using a can opener.
As treatment progresses, the occupational therapist will regularly reevaluate a patient's care plan, observing which goals are being met and adjusting the plan in areas that need more work.
The therapist will also conduct an assessment of a person's home to ensure it's still safe for them. Areas such as slippery or otherwise unsafe stairs, floors and bathtubs can all pose a risk. They may recommend assistive devices or modifications to the environment. This may include:
Shower chairs, handheld shower heads, washcloth mitts
Grab bars in shower or tub
Toilet seat risers
Bed rails
Pill organizers and medication dispensers
Kitchen utensils with large handles, two-handled cups
Button or zipper hooks, stocking aids, Velcro closures
Walkers, frames or wheelchairs
If a family decides to install a medical alert system, an occupational therapist can also teach the senior how to use it if they fall.
What are the benefits of occupational therapy for seniors?
The right course of therapy will help seniors overcome challenges caused as the result of illness, injury, surgery — even the early stages of memory loss and dementia. Improving motor skills and body awareness, and modifying or removing potential hazards, can also reduce the risk of a fall at home.
When occupational therapy helps a senior regain independence, it positively influences their mental health. It has an empowering effect, giving them a more positive outlook on life. They can redesign how they live, with more control over their quality of life, longevity and health.
An occupational therapist can also take some of the pressure off family caregivers. A therapist's insight into a loved one's condition gives caregivers a better idea of their loved one's daily needs and enables them to make more informed decisions about care.
When you need the best:
At Pomperaug Woods, we're committed to residents' lasting independence. Our occupational therapists are highly trained professionals who know precisely what to do to help individuals stay active, safely continue their daily routines and pursue a healthy lifestyle. If you or someone you know could benefit from occupational therapy services, contact our Health Center today for an assessment.