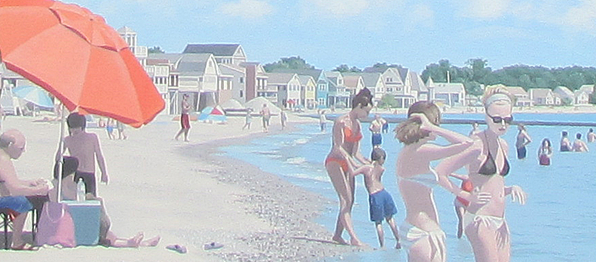 "Silver Sands"
This beautiful acrylic painting won the Tommie Davis Award for Jeffrey A. Sells, age 72, of Woodbridge, Connecticut.
Winners ranging in age from 72 to 98 years old!
"We had 58 new artists entered for the first time," says Lisa Huebenthal, Program Director for Pomperaug Woods. "The show gets more popular every year, and the quality of work is just amazing."
Each year, one artist receives the prized Tommie Davis Award — which is considered the "best of show." Tommie was an award-winning photographer, as well as a gifted painter and sculptress. As a long-time resident of Pomperaug Woods, she was very involved in hosting the annual Senior Juried Art Show. Now, Pomperaug Woods presents this award in Tommie's memory because of her generous donation, earmarked for the arts, to the community's Founders Fund.
"The Art of Experience" Show takes place September 26-27 at Pomperaug Woods. The public is invited to view the winning artwork which will be exhibited October 4 to November 15 at the Mattatuck Museum in Waterbury.