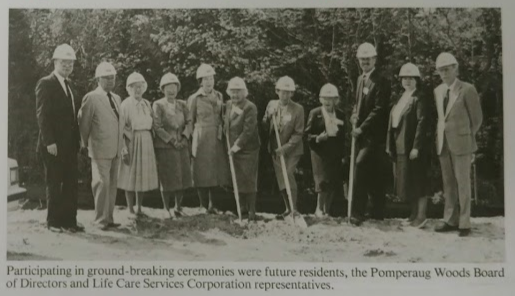 It was a sunny day in May 30 years ago when the first residents walked through the doors of Pomperaug Woods to begin enjoying their new lifestyle. They could smell the fresh paint, and see the finest finishings in their new apartments and throughout the common areas. It was a community all looked forward to calling home. Since that time, Pomperaug Woods has become a wonderful community that offers reassurance and security through the LifeCare® option for hundreds of residents.
"Pomperaug Woods is home to intelligent, positive, creative people who define the art of living," said Kevin Moshier, executive director of Pomperaug Woods. "Since we opened our doors, our community has improved the lives of seniors and their families."
Pomperaug Woods was the vision of its "founding mother," Dr. Elizabeth Avery Wilson. Dr. Wilson had extensive background in establishing higher education institutes that offered health education programs. She served on several national organizations, including the American Medication Association.
In 1979, she presented the idea of a senior living community in Southbury to the Life Care Services® development team. She sought approvals for 30 skilled nursing beds located on 22 acres of pristine land in New Haven County. The vision became a reality nine years later during a dedication ceremony on October 16, 1988. Dr. Wilson was recognized for her work to better the lives of Connecticut seniors.
"Dr. Wilson was an advocate for senior living," said Moshier. "She saw the importance of staying physically and intellectually active as you age."
Pomperaug Woods and Southbury have seen many changes in the 30 years since the development was first envisioned. Connecticut, along with the rest of the country, has undergone a historic transformation with the aging Baby Boomer population. The state is currently the seventh oldest in the country, in terms of percentage of adults age 65 or older.
"There's a tremendous need for engaging senior living options in the area because of this growing population," said Moshier. "Older adults are yearning for a location where they can grow, and that's what we offer to every resident. We believe there's a need to educate the older population about senior living options and planning ahead for the future."
According to the latest U.S. Census reports, nearly 5,300 people or 27% of the Southbury population, is 65 or older. That's triple the percentage of older adults living in neighboring New Haven and double that of nearby Waterbury. By the year 2020, census reports project 40% of Southbury's population will be over the age of 65.
These growing numbers of seniors are looking for quality living options with amenities and wellness services.
The community attributes its success to embracing the art of living, the experience of its staff, its financial stability, and its position as Southbury's only not-for-profit LifeCare® community. The campus provides a variety of amenities and maintenance-free lifestyle options ideal for today's active seniors. Residents enjoy sharing experiences that bring purpose and joy to the life they live.
Recent studies show when a person becomes part of an independent living retirement community like Pomperaug Woods, they're more likely to make new friends and try new things, and most report a better experience than they expected.
Pomperaug Woods has a local commitment that started 30 years ago with a vision. The community plans to continue its unwavering commitment to resident satisfaction for the next 30 years and beyond.