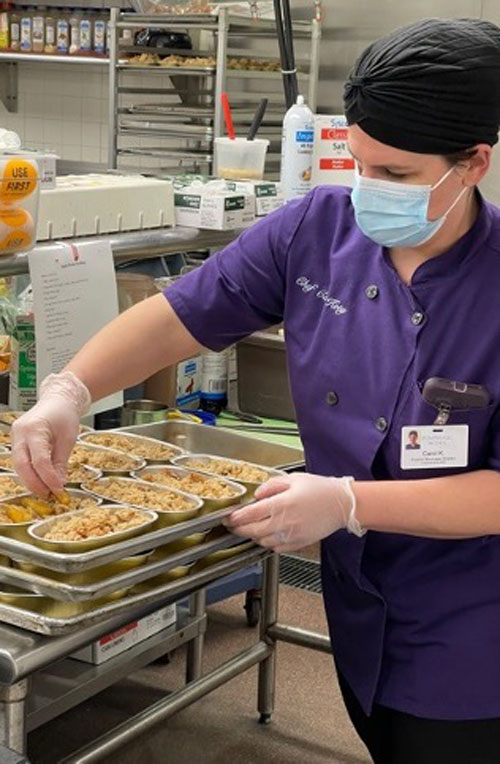 Apples have a rich history in Irish culture and play a role in many stories within Celtic mythology. It is said that the unmarried person should place one under their pillow to ensure their sleep is filled with dreams of their future spouse. There is a legend that St. Patrick himself planted an apple tree outside of Armagh County, which is now lovingly called Orchard County. Apple cake is a classic dessert enjoyed throughout the country's pubs. This version is a celebration of Ireland and the apple.
Chef Carol Koty
Food and Beverage Director – Pomperaug Woods
Makes 1 Loaf Pan:
1 Tbsp. salted butter

1 cup granny smith apples, peeled, cored, and sliced thinly

2 Tbsp. brown sugar

½ tsp. cinnamon

2 ½ cups brioche bread, cut into 1-inch cubes

4 large eggs

1 cup heavy whipping cream

¼ cup pure maple syrup

2 Tbsp. pure vanilla extract

1 Tbsp. cinnamon

1 Tbsp. Irish whiskey (optional)
Directions:
Preheat oven to 350°F.
In a small sauté pan over medium heat, melt the butter. Add the apple slices, brown sugar, and cinnamon. Stirring often, cook until the apples soften, about 5 minutes. Remove from heat and set aside until ready to use.
Place the cubed brioche bread in a large bowl. In a separate bowl, whisk together the eggs, heavy whipping cream, maple syrup, vanilla extract, cinnamon, and Irish whiskey (optional). Pour the liquid over the cubed bread and allow to soak for at least 10 minutes.
Mist a loaf pan liberally with nonstick pan spray. Spoon the soaked bread mixture into the loaf pan, filling halfway. Layer the cooked apple slices over the bread mixture. Top the apple slices with the remaining amount of bread mixture to fill the loaf pan.
Bake the apple bread pudding until the center is set and reaches 145°F, about 45 to 50 minutes. Serve warm with ice cream or caramel sauce. Enjoy!