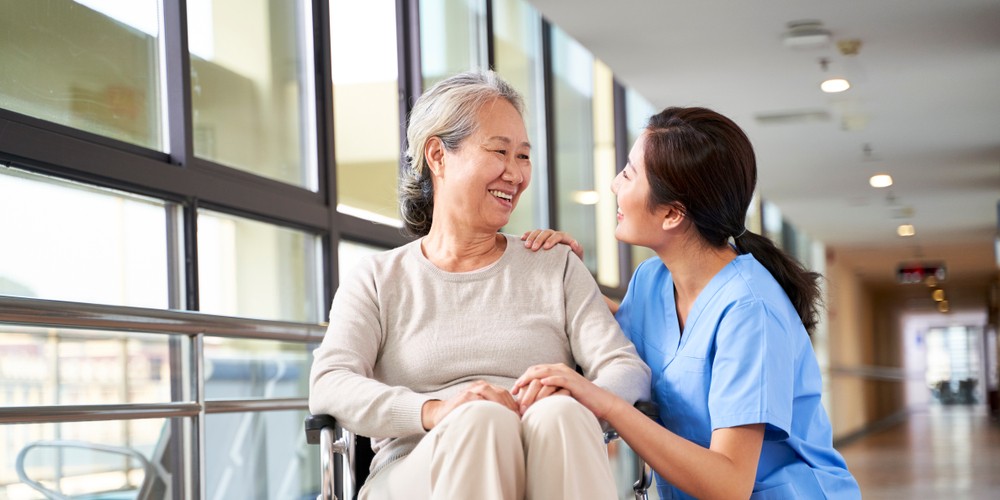 Person-centered care is a growing trend in senior living communities and is the preferred method of care by older adults. However, it's less about doing things for people they could do themselves, and more about giving them the ability to make their own decisions by respecting each person and valuing them as an individual.
Read this easy guide to person-centered care and find out why senior living communities like Pomperaug Woods are revolutionizing the traditional approach to healthcare and giving residents the confidence to take control of their retirement.
What Is Person-Centered Care?
A traditional approach to healthcare primarily focuses on treating medical conditions, which can cause caregivers to lose sight of the person behind the condition they're treating. This can lead to older adults feeling like objects or merely tasks to be checked off a to-do list, rather than a human being with thoughts and feelings.
A person-centered approach prioritizes caring for your needs beyond your current health condition. It involves tailoring your care, environment, and services to meet your individual preferences and interests, along with providing excellent healthcare.
This approach involves getting to know each resident, valuing them as an important part of the community, and respecting their views on what's best for them, so they can take an active role in care-related decisions.
5 Signs of Person-Centered Care at a Senior Living Community
While every senior living community is different, there are some basic signs residents are enjoying a high quality of life with tailored care. Here are five pillars that are at the heart of a person-centered approach to care at Pomperaug Woods:
Dignity and respect. Every resident has value. Our caregivers respect your wishes and treat your beliefs, feelings, opinions, and thoughts with dignity.
Tailored care. Our senior living community in Southbury, CT, offers independent living, assisted living, memory care, skilled nursing and rehabilitation services on campus. No matter which level of living you require, you can confidently move through retirement knowing our community understands your unique needs.
Empathy. Caregivers in senior living communities that practice person-centered care strive to understand your experiences and empathize with them. Your voice always matters, and you'll never feel judged for expressing your opinions or emotions.
Empowerment. Person-centered care requires you to take actions to support yourself and maintain independence. This helps you feel more in control of your life and makes you less reliant on your caregivers.
Information and Education. To make better decisions about your health, you need information. Educational resources, lifelong learning classes, and detailed conversations with your caregivers are all ways we support a whole-person approach to care.
Why a Person-Centered Approach Is Essential in Memory Care
Every senior can benefit from person-centered care, especially those with Alzheimer's and other forms of dementia.
This tailored approach to healthcare recognizes that seniors living with dementia still have the desire to express themselves, understand their behavior rather than having it managed, and have the right to make their own choices whenever they can.
Here are more benefits of person-centered approach to memory care:
Better sleep patterns
Decreased feelings of boredom
Increased social opportunities
Lower risk of depression
More independent lifestyle
Reduced aggression and agitation
Returning to their favorite hobbies and activities
A lesser known benefit of person-centered care for residents in memory care or assisted living that has a big impact is a lower risk of caregiver burnout. This whole-person approach increases job satisfaction, decreases stress, and leads to a happier environment for both residents and staff.
Do All Senior Living Communities Offer Person-Centered Care?
Though person-centered care is preferred among most seniors, it's not offered at many senior living communities. That's because it takes an entire cultural shift, extensive training, and upgrading services to redesign how a community serves its residents, and many communities aren't willing to go the extra mile.
At Pomperaug Woods, medical attention is a priority, but our highly trained staff is also skilled at providing an engaging environment and working hand in hand with each resident and their family to customize a care plan based on personal preferences and established daily routines.
Our wellness program is research-based and provides a whole-person approach to health by improving your physical health, stimulating your intellect, providing engaging social opportunities, strengthening your spiritual connections and more. In fact, more than 90% of our residents take part in our wellness program!
Engage and Energize Your Mind, Body, and Spirit with Person-Centered Care at Pomperaug Woods
To learn how you can take control of your retirement with person-centered care at our community in Southbury, CT, contact our sales counselors online or call us at 203-936-8985. We'll be delighted to answer your questions or schedule a tour!