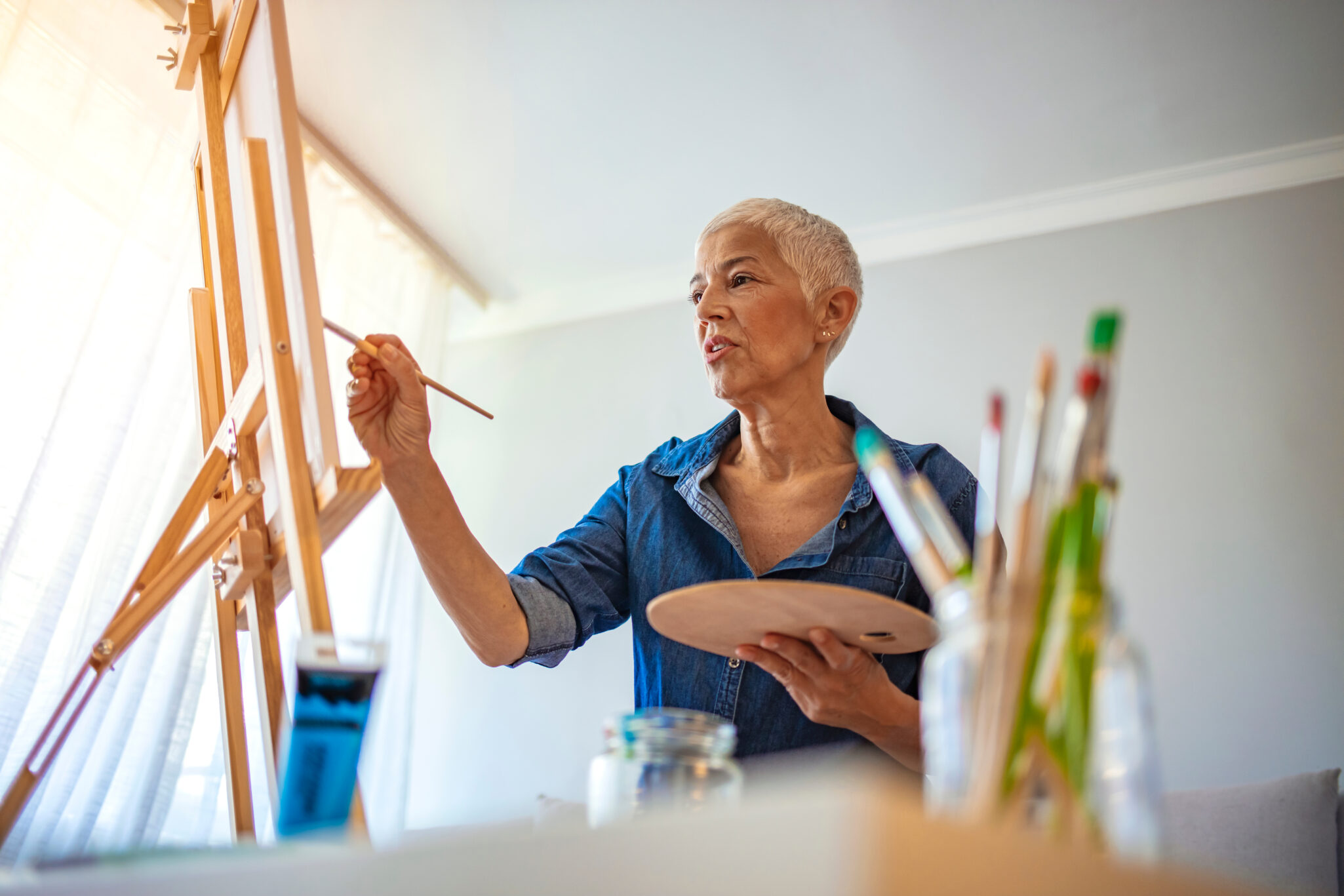 When you visit a senior living community for the first time, one thing that will likely catch your eye is how vibrant the lifestyle is. A thoughtfully designed community promotes and encourages the art of living well. One reason why is that research clearly shows engaging in the creative arts can make life more enjoyable at every age. From plein air painting at a local park to taking a pottery or stained glass workshop, the benefits of art for seniors are numerous.
Equally important are the health advantages participating in arts activities provides. The list of mental health and overall wellness benefits that seniors gain from art is a long one.
The Positive Impact Art Has on Seniors as They Age
Much of the solid research on art therapy began with the Seattle Longitudinal Study in 1956. After following subjects for nearly 50 years, scientists concluded that having a flexible, creative mind is crucial to warding off cognitive decline in your 70s and 80s. It also helps seniors stay healthier over a longer period of time.
When it comes to art therapy and senior wellness, how researchers define creativity is important. They believe that being creative keeps people curious, open to new experiences and more adaptive to change. These are all traits that challenge the mind and keep seniors more active and engaged with life.
Benefits of Art for Seniors
A study conducted through a partnership between the National Endowment for the Arts and The George Washington University looked at the role engaging in the creative arts can play in senior health and wellness. Their findings were surprising, even for those who already believed art improves quality of life.
The majority of seniors who participated in the study saw an overall improvement in health, as measured by:
Fewer doctor's visits
Reduced number of falls
Less use of prescription medications
Stronger immune system function
Other research shows that people who actively participate in art projects during retirement are less likely to experience depression and more likely to have a positive outlook on life.
Staying Creative Also Helps Ward Off Dementia
Art therapy might even help you guard against Alzheimer's disease and other types of dementia – it is a common therapy in memory care neighborhoods. The Mayo Clinic Study of Aging showed that taking part in creative endeavors stimulates the brain. That's essential for protecting brain health.
Here's a quick overview of the study and what researchers found:
256 participants with a median age of 87.3 years were studied for almost four years.
None had cognitive impairment as the study commenced.
Researchers tracked participants' engagement in arts and crafts activities and other behaviors.
By the end of the study, researchers spotted several noticeable patterns:
121 participants developed mild cognitive impairment (MCI).
Participants who involved themselves in art projects in both middle and old age were 73% less likely to develop MCI than peers who did not.
Participants in the same age groups who engaged in craft-style projects were 45% less likely to develop MCI.
It's research like this that led memory care programs, including the one at Pomperaug Woods, to incorporate arts and crafts activities into daily programming.
Tips for Exploring the Creative Arts
Don't let the phrase art therapy intimidate you. You don't need any special training or even any real artistic skills to reap the rewards associated with creative pursuits. A few easy ways to live a more artful lifestyle include:
Take a variety of classes: With workshops being offered by organizations ranging from parks and botanical gardens to art supply stores, you're likely to find a variety of options for taking a class. Many include all the supplies you need in the price. It's a great way to try your hand at a few different types of art projects. Then you can continue to develop your skills in those you find most enjoyable. If you can't find any in-person opportunities nearby, sites like YouTube and Skillshare might be of interest.
Incorporate art into favorite hobbies: Another idea is to combine some of your favorite hobbies with art-related activities. For example, are you a huge sports fan who never misses a minor league baseball game? Invest in a beginner DSLR camera and try your hand at photography. It's a visual art that encourages creativity on a variety of fronts. Or you might be a bird lover who sets up trail cameras to watch the feathered occupants in your own neighborhood. Take it a step further by starting a field journal and using colored pencils or watercolor pens to sketch the birds who visit.
Don't limit your view of art: Remember that art takes many forms. It might be researching garden perennials and creating a plan for a new border in your yard. Or it could be purchasing a plan to build raised flower beds, assembling them in your yard, and filling them with vegetables or flowers. Creative writing is another avenue. You could develop an idea for a children's book and write it, or put together your own screenplay. The intent is to see art as more than just paint and brushes.
A Lifestyle Focused on Maintaining Independence
At Pomperaug Woods, we know that thriving during retirement takes more than just staying busy. The entire community is committed to creating an engaged senior living environment. Each resident has the potential to get involved in life enrichment activities just a few steps away from the door to their private apartment.
From an on-site creative arts studio complete with an experienced instructor to outings to enjoy local dinner theater, museums, opera and more, the opportunities to live a stimulating, artful life are endless. Contact us today to learn more!