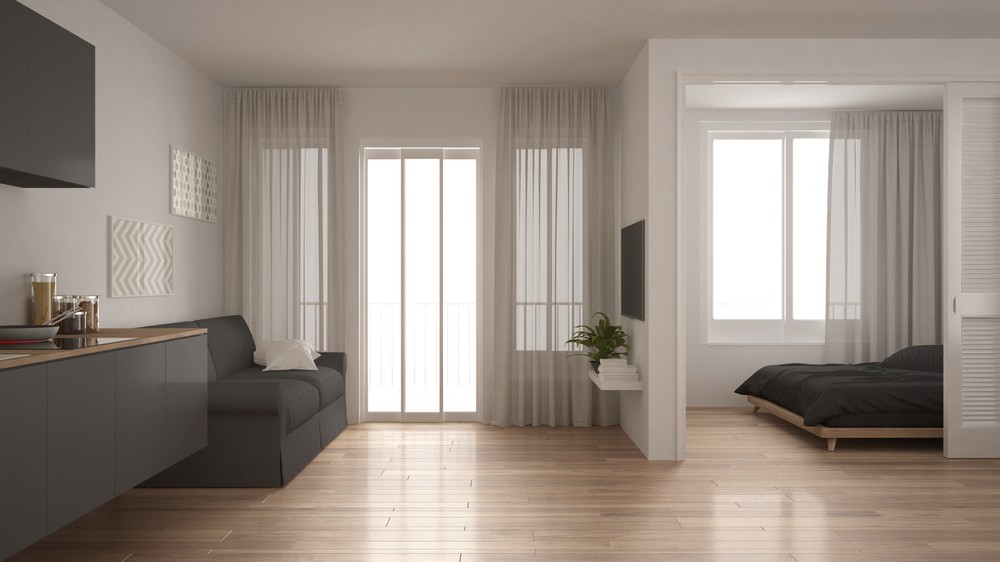 Downsizing into a smaller living space doesn't have to mean sacrificing an open, airy ambiance. Smaller spaces can be inviting and spacious, too.
A common concern among retirees who are considering downsizing into a senior living community is whether they can really fit comfortably into a one-bedroom apartment without feeling cramped. With the right furnishings and a few design tricks, it's absolutely possible.
At Pomperaug Woods, our thoughtfully designed one-bedroom senior apartments come in a variety of floor plans so you can find the fit and layout that works for you. Once you make your choice, you'll be ready to begin learning how to make a small apartment feel bigger.
Keep Furniture in Scale
Too much furniture will fill a room quickly, but even smaller amounts of the wrong kind of furniture can make a room feel cramped. Avoid oversized, bulky pieces, and instead opt for furniture that matches the scale and proportion of the room. Favor pieces with sleek lines (as opposed to an overstuffed sofa, for example) to give the appearance of more space. Using furniture that doesn't extend far off the ground will give the illusion of higher ceilings, and styles that give the appearance of movement, such as exposed legs that allow air and light underneath, create a sense of more openness.
Use Window Treatments Artfully
One of designers' favorite tips for how to make a small apartment feel bigger is creative use of drapes and other window treatments. Hanging curtains from floor to ceiling gives the illusion of taller ceilings, which opens a room up instantly for a larger, more contemporary feel. Similar to your furniture selections, avoid excessively heavy materials that can have a dimming effect and instead select breezy fabrics that offer an airy allure.
Pay Attention to Your Color Palette
Not only do lighter shades of color lend a sense of calm and serenity, but they also reflect light, making a room instantly brighter and more inviting. This isn't to say your entire design aesthetic has to be muted; your furnishings and accessories can bring pops of color while you preserve the benefits of a softly hued backdrop with light-colored elements like walls and window furnishings. You can also bring color into the room with textiles, such as a striped rug with a pale base and strips of vivid color.
Make the Most of Natural Light
Your first inclination may be to flip on an overhead light to brighten a room, but natural light lends a far more appealing ambiance. Overhead lights shine down into a room, making it feel more confined. Conversely, windows allow light to filter across the room, filling space with brightness. During the day, throw back the drapes, open the blinds and let the natural light fill your apartment. Mirrors are an excellent decorative element to pair with windows in a small space; they reflect and bounce the natural light for extra brightness. You may want to also add some table lamps or sconces for cozy illumination in the evenings.
Select Multi-Purpose Furnishings
To get more out of your space, incorporate items that can serve multiple purposes while taking up the same amount of space. For example, side tables that double as storage or nest with a bench seat add practical function that expands your useful space without adding clutter. If space allows, a coffee table with storage is another good choice in the living room. A bookshelf with a fold-out table is another example of how to make a small apartment feel bigger; it adds a useful surface for crafting or even dining that easily stores out of sight.
Find Spacious Apartments for Downsizing
If you're eager to start tackling some of these ideas for how to make a small apartment feel bigger and transform your new senior apartment into a cozy, inviting retreat, you'll be happy to hear new residents at Pomperaug Woods receive four hours of moving and downsizing consultation at no charge. You'll also have the option of customizing the finishes in your residence, so you can create a light, bright and roomy space. Contact us to learn more about available floor plans, and be sure to ask about our move-in specials on one-bedroom apartments.