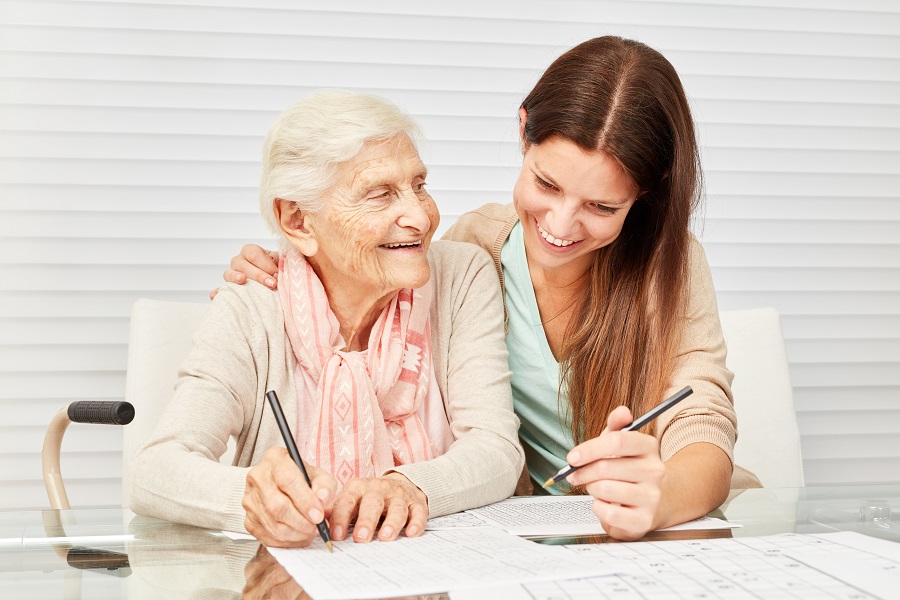 If you've just started researching memory care in Southbury, CT, for yourself or someone you love, you probably have many questions.
You may be searching for answers related to how much memory care costs, what kind of support and personalized attention this level of care provides, and what types of specialized programs are available for someone diagnosed with memory loss due to some form of dementia.
At Pomperaug Woods, we're here to serve as a helpful resource to you. This in-depth blog post can help answer many of these questions. If you have other questions not addressed here, or if you'd like to inquire about our memory care, we'd be happy to talk with you anytime.
How Much Does Memory Care Cost?
Understanding what is provided in the monthly fee is important, because it can help you and your family members better compare memory care facilities in your area.
In the state of Connecticut, the average cost of memory care in a memory care facility is $5,344 per month. In the city of Southbury, the average cost of memory care is $7,080 per month. Both figures are higher than the national median of $4,920 per month.
The cost varies greatly depending on whether the residence is private or semi private; the size of the residence affects the monthly cost as well. Other factors that affect cost include location, amenities and care needs.
Some services — like meals, medication management, housekeeping, help with activities of daily living, laundry and linen service — may be included in the monthly cost. But in some communities, these services may be considered optional, or can be selected a la carte.
When choosing a memory care facility, it's important to understand how prices are calculated, what's included, and what's not. Ask how often rates increase and whether a deposit or entry fee is required.
What Types of Care are Provided in Memory Care's Monthly Cost?
Family members searching for memory care options for a loved one may need to compare communities to fully understand memory care's monthly costs. Typically, when looking at how much memory care costs, you'll find most communities have staff members who provide help with activities of daily living, such as bathing, grooming, dressing, eating, and using the restroom. Nursing professionals may manage medications; some communities may collaborate with the resident's personal physician and family members to create personalized care plans. Other communities may have specialized programs to help memory care residents thrive.
For example, at the heart of memory care at Pomperaug Woods is Heartfelt CONNECTIONS — A Memory Care Program®, recognized as one of the most innovative memory care programs in the country. Staff members get to know residents, understanding details from what their lives were like before their memory loss. This legacy of details enables a deep heartfelt connection and shapes a customized memory care plan around a resident's needs, preferences and choices.
How Does Memory Care Differ from Assisted Living?
Assisted living is another level of care you might find at some senior living communities. These two levels of care have some similarities — for example, people who have mild cognitive impairment may live in an assisted living setting. But memory care has several significant differences.
Community layout: Memory care facilities are designed to provide comforting, safe and secure environments where residents can receive 24-hour care and support. The facility may offer small neighborhoods of 8-12 residents, with private or semiprivate suites and large shared kitchens and living rooms that promote socialization. There may be secure outdoor gardens where memory care residents can wander safely. The facility may have door alarms or motion sensors or other safety precautions.
Level of staff attention: In assisted living facilities, residents may need assistance with activities of daily living but otherwise live independently and manage their own time. Memory care residents receive a lot of attention from specially trained staff who have experience working with residents who have some form of dementia.
Specialized activities: Memory care residents may have a customized calendar of activities designed to keep them engaged socially and help reduce their confusion, anxiety and distress. Memory care facilities may also offer memory-enhancing therapies like music therapy.
Who Pays for Memory Care?
Once family members understand how much memory care costs, the next logical question is, "How do we pay for it?" Aside from private insurance, there are some funding sources available:
A veteran or their widowed spouse may receive benefits from the Aid and Attendance program that may help pay for this type of senior care.
Long-term care insurance may cover some costs of a memory care facility.
Medicaid may cover some expenses if the resident qualifies.
If an older adult is already living at Pomperaug Woods, LifeCare® residents will be able to transition to memory care based on the parameters of their current residency contract. LifeCare® residents are assured all-encompassing care at predictable rates they can count on, with the added benefit of asset and estate protection.Our knowledgeable sales counselors can explain the benefits of LifeCare® and how it can make an appreciable difference in your life, or the life of someone you love. Contact us to start the conversation today.